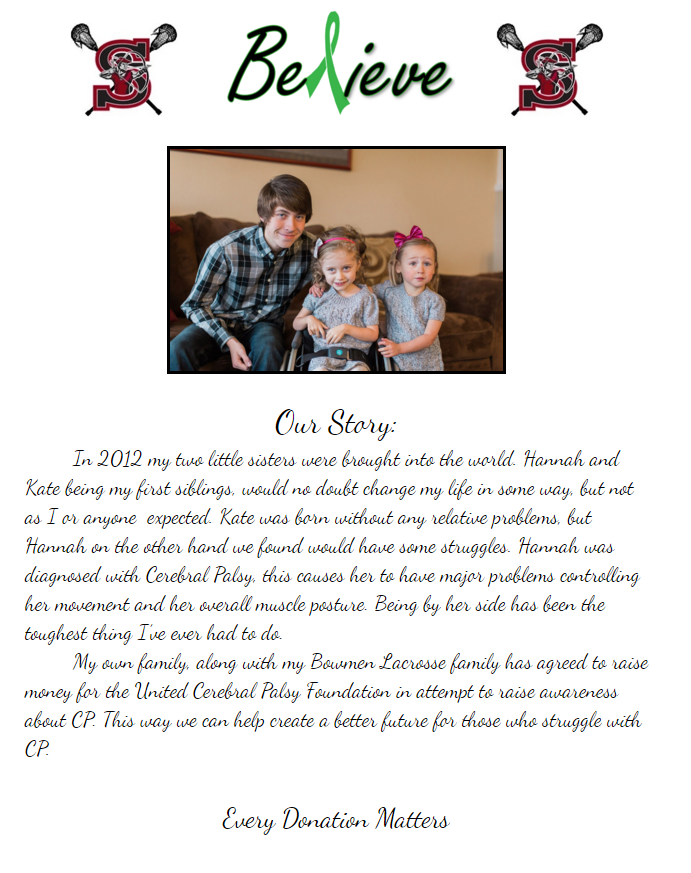 SHS lacrosse takes title, donates to cerebral palsy
Created on Thursday, 19 May 2016 18:40
 | 
Written by Chris West
Sherwood High School's boys lacrosse faced off against Liberty High School on May 13 in the Northwest League Championship game.
When the final horn sounded, the Sherwood Bowmen shot down the Liberty Falcons 14-4, claiming a fifth consecutive Northwest League Championship. Now the Bowmen head into the state playoffs as the No. 9 seed.
It has become a tradition for the Sherwood High School boys lacrosse team to dedicate their season to a worthy philanthropic effort and this year the recipient is United Cerebral Palsy of Oregon & SW Washington.
This cause is very close to home for the Bowmen lacrosse players, since senior Zack Brown's sister, Hannah, born in 2012, has cerebral palsy.
All season, the boys wore green ribbons on their helmets to raise awareness about cerebral palsy. Their numerous fundraising efforts included a 50/50 raffle at all home games, a GoFundMe site, a Jersey Mike's fundraiser, and T-shirt sales. When all the efforts were completed, the boys raised a record amount totaling $1,285 for the Foundation.
During half time at the 50-yard line, seniors Brad West and Zack Brown, presented a check to Zack's mom, Lisa Ledson, who accepted it on behalf of United Cerebral Palsy. Also, the Allender Family, including junior Cam Allender, presented a $1,000 check to the Ledson Family from a separate Krispy Kreme fundraiser that the team conducted, too.
COURTESY OF AIME DAVIS - The Bowmen lacrosse team presented a check to benefit United Cerebral Palsy on May 13.
These funds will be applied toward scholarships with the nonprofit, Forward Stride for equine therapy to kids with special needs whose families would otherwise not be able to afford it. Clearly it was a touching moment for everyone in attendance at Aaron J. Contreras Memorial Stadium.
Past Bowmen lacrosse philanthropic recipients have included Emma Aanderud (a Sherwood High School student who has beaten leukemia) in 2015, Wounded Warrior Foundation in 2014, Susan G. Komen for the Cure in 2013 and the HEADstrong Foundation in 2012. Head Coach Rob Robinette is very proud of the team's accomplishments on and off the field, stating "Bowmen lacrosse's philanthropic efforts are just one of the many core values we instill to our players. 'Team Above Self' is the program's motto."